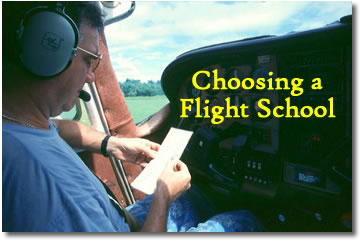 Choosing a Flight School
"[Flying fosters] fantasies of childhood, of omnipotence, rapid shifts of being, "miraculous" moments; it stirs our capacity for dreaming."
-Joyce Carol Oates-
At any given moment in time, several thousand Canadians of all ages are thinking about flight training. They are young, middle aged, and older men and women who, for reasons shared by many of us, feel the lure of the skies, thrill to the sound of an aircraft accelerating down the runway toward flight, and long to feel the resistance of the stick pulled back in climb.
On any given day, several hundred Canadians are exploring the world of flight training, trying as best they can to choose a school that will suit. They are looking for a school that will satisfy their needs and provide them with a positive venue to meet their aviation goals.
According to Glenn Priestley, the Air Transport Association of Canada's (ATAC) Vice President for Fixed-Wing Air Taxi and Flight Training, there are approximately 5000 students enrolled in flight training programs across Canada at any given time. There are 280 accredited flight schools operating in Canada, 44 in BC alone. That translates into a good basis of choice for any potential student.
Choosing the flight school that's right for you is no small decision and taking the time to complete a proper investigation is an excellent plan. A survey conducted by ATAC and the Department of National Defence found the average cost of obtaining a private pilot license in Canada, based on a 48 hour, full time program, is $6869.19. For students embarking on a career program and working toward a commercial pilot license endorsed for multi-engine and instrument flight, the cost is closer to the $30,000 to $50,000 range, depending on the total educational package (1).
ATAC has published some very sound advice for prospective flight students and a visit to their website, www.atac.ca, to read the materials on flight training is well worth the few moments it takes. Among their recommendations is a six-step process:
1) Determine your aviation goals,
2) Identify the type of school you wish to attend,
3) Make a list of possible schools,
4) Visit the schools in person,
5) Assess the bottom line costs, and
6) Make a choice.
The key factor in this whole process is finding a school that will be right for you, that will meet your needs, that will fit your way of doing things and that will work with you to achieve your aviation goals.
There are essentially three types of flight training schools in Canada: the college programs, large, flight-centre type schools and the smaller, independent schools. Each type of school has its advantages and disadvantages. There is no single, right way to earn a pilot's license any more than there is only one type of person who chooses to learn to fly.
The college programs are geared, primarily, to younger men and women focused on a career in aviation who want to complete either a two-year diploma program or a four-year college degree at the same time they complete their flight training. These programs, on the whole, are excellent and provide younger students with an opportunity to build the basis for a career in aviation. Expectations of college program graduates are very high and some students are disappointed when they are not able to walk out of the classroom into a high paying job in aviation.
College programs are, on the whole, quite expensive. For many students, however, loans and grants are available to assist with the high costs. If you are graduating secondary school and have a good academic record, it is well worth the time to investigate the various aviation college programs available across Canada, including the Royal Military College at Kingston, Ontario.
The large flight-centre type schools are located at most of the major airports across the country. Many of these institutions have been in business for years and embody a collective memory of thousands of students successfully completing pilot programs. The schools tend to be well-run organisations with excellent facilities and well-maintained aircraft.
Because their programs are focused solely on flight training, the costs will be less than an aviation college program and may provide the same actual opportunities for employment at completion should a student be working toward a career in aviation. For both the commercial and private pilot student, this may be an excellent venue.
These large, flight-centre type schools are also a training ground for young instructors so flight students may well find they are being taught by young men and women who, while under the supervision of experienced instructors, are learning as they go. It is important when visiting and discussing your flight training opportunities at this type of school to find out who, exactly, will be available to instruct you, how much choice you will be able to exercise, whether you will have one main instructor or a series of instructors and what their level of experience is.
Independent flight schools are to be found at many smaller airports and aerodromes across the country. While they operate under the same Transport Canada rules and regulations and are inspected by TC base inspectors just as regularly as any other flight schools in Canada, they tend to be a bit more of a mixed bag. They range from outstanding to adequate, depending on a number of factors.
The small schools' strong points are built around the individualised nature of the instructor-student relationship. The level of training available at the smaller schools can be excellent, but it is very important for a potential student to visit the school in person, have a good look at the facilities and the aircraft used for training and talk to the instructor or instructors who will be available to provide training.
Costs may be somewhat lower at a smaller school due to lower overhead. Unfortunately, they may also be quite a bit higher if the school does not provide students with a well-co-ordinated, well-articulated training program. Costs on a per-hour basis may not provide the real story. Actual cost for completion of the program is what we really need to know. There is no substitute, when investigating schools, for the personal visit that gives you a chance to look and check and ask.
For both private pilot and commercial students, the small, independent school can, potentially, provide an excellent, personalised venue where training can be tailored to a student's personal needs and goals.
With all schools it is an excellent idea, when you are getting close to a decision, to purchase an introductory flight. It isn't a bad idea to do this at a few schools, for comparison. For a very reasonable cost you will have an exciting adventure that may also count towards your total flight time requirements and you will have an up-close-and-personal opportunity to see what sort of instruction you may be able to expect.
Choosing a flight school that's right for you can be an enjoyable and interesting process. The best advice anyone can give you is this: do your homework. Check out the available information, both information provided by the schools themselves and information available on ATAC's website and in the various other publications.
Ask people in the industry for their thoughts and recommendations; talk to current and former students at schools you are considering; make those personal visits. You're preparing to spend a good deal of money and, possibly even more important, a good deal of time and energy.
Five years from now, as you descend to land at a strange aerodrome through what is beginning to feel suspiciously like very marginal weather, that $50.00 you saved by short cutting your investigations may not seem like such a great bargain. It's your adventure; you have a right to make it what it needs to be for you.

1. Reyno, Mike, "Finding the School Right for You," Wings Aviation Magazine, issue #1, Vol. 42, March/April 2001. pp10-11